Richmond Hill Winter Carnival 
In 1968, a group of neighbours who lived near the Mill Pond Park in Richmond Hill, at the corner of Trench and Mill Street, decided to hold a "Winter Carnival" at the Mill Pond Park. Forty-eight years later, a group of community volunteers known as the Richmond Hill Winter Carnival Committee have been committed to sustaining the original dream of that group of neighbours…. to bring together the community for a weekend of family fun and celebrate the great Canadian tradition of WINTER!
In the intervening  years, the Carnival has grown from a one day event to a full weekend of family fun in February. The Winter Carnival provides a full program of entertainment from Friday evening through to Sunday afternoon, the main theme of the event has never changed… a community coming together to celebrate winter.
As always, the Winter Carnival is an open event with no admission charge. Activities at Carnival include Pony Rides and a Children's Midway, a Viking Show, a Wildlife Show, a Pancake Breakfast on the Sunday and a Craft Beer Tasting on the Saturday night, hamburgers and fries, great live music, and many more family oriented activities to enjoy.
I wanted to thank the thousands of people who came out to celebrate winter as a community, and the many, many volunteers and sponsors that made this celebration possible. We had a great turnout and we look forward to our 49th Carnival next year. Below are a few of the many great moments from this past Carnival.
For more information on the Winter Carnival, and to find the winning numbers from our Carnival Button Draw please visit 
https://www.wintercarnival.net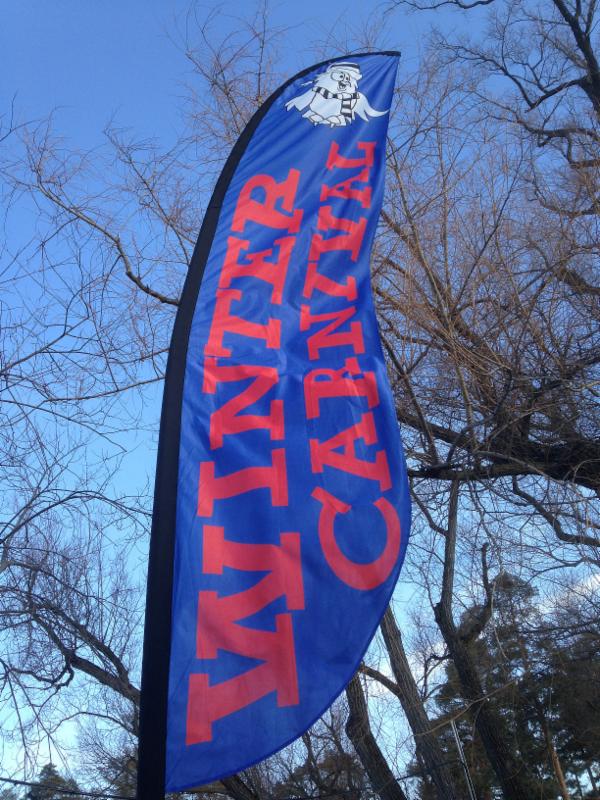 Even though Mother Nature did not provide us with a safely frozen Mill Pond this year, she sure did give us a warm and sunny weekend!
Is it just me or is Ookpik looking particularly good this year – he doesn't look a day over 30!
Lou Moore (on the right) is one of the Carnival's longest serving entertainers and a great performer! On the left is Mayor Barrow, singing harmony with Lou. I must admit Mayor Dave is not bad as a back up singer, but he should not give up his day job!
The Welcome Ceremony with our sponsors and fellow elected representatives as well as our Carnival Chair Michele.
Ookpik, Bud and I having a portrait in the Richmond Hill Camera Club Photo Area at Winter Carnival
One of the Winter Carnival Hockey Tournament Champions – Our Lady of Annunciation including our Hockey Sponsor (far right), Brad from Richmond Hill Canadian Tire!
Two of our dedicated stage Crew (Doug and Ray) and a good looking dude in the centre at the end of Carnival at "tear down".