We had another beautiful day for the 17th annual Mill Pond Splash. This eco festival has become an important event in our Town. A record number of our residents came out to celebrate our natural environment and especially the Don River. Did you know that the Don River begins its journey to Lake Ontario very close to the Mill Pond in Richmond Hill?
The festival brings awareness to the importance of our environment and in particular, the aquatic environment in the Don Watershed. I had the honour of being the emcee and a member of the organizing committee, but the Toronto Region Conservation Authority, The Town of Richmond Hill and Evergreen Foundation all needed to be applauded for taking the initiative for providing this event for our residents.
People of all ages had the opportunity to learn and share stories about Mother Nature and get up close and personal with Milkweed and Monarch Butterflies, fish and other aquatic creatures that live in the Mill Pond and the Don River, as well as turtles, snakes, hawks, porcupines and other animals that share their home with us. We demonstrate our commitment to our natural environment in Richmond Hill and the Mill Pond Splash gives us all a reason to celebrate this commitment!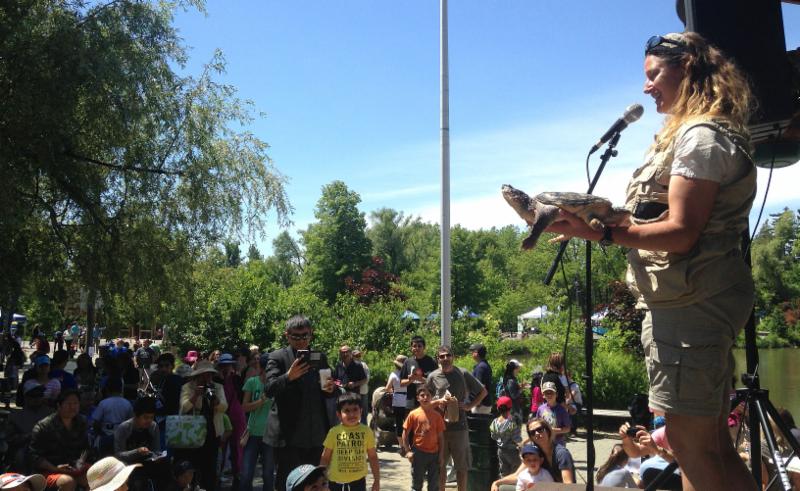 A great Reptile show at the Mill Pond Splash – A Snapping Turtle on display – I did not know that Snapping Turtles can't retract into their shells and that they can live for over 100 years.
Jeff Salem playing his unique brand of music with his group Envirodrum at Mill Pond Splash – great music and a great environmental message!
The Milkweed ready for planting at Mill Pond Splash by our residents. Our Monarch Butterflies will love it.
Electro fishing at the Mill Pond Splash – it is amazing to see the volume and variety of aquatic life in our Don River. After inspecting the catch it is released back into the river unharmed
A great day celebrating our environment – including Cake at 11:30am – the kids and I are calling it "breakfast cake"