In August, at the Richmond Hill Cenotaph we honoured the soldiers from our Town who fell 75 years ago during the military raids on Dieppe. There are 7 brave men who gave up their hopes and dreams for tomorrow so that we can have hopes and dreams for today. Below are the comments I delivered to the audience about one soldier Pte. Charles Hill (pictured below)
Pte. Charles Hill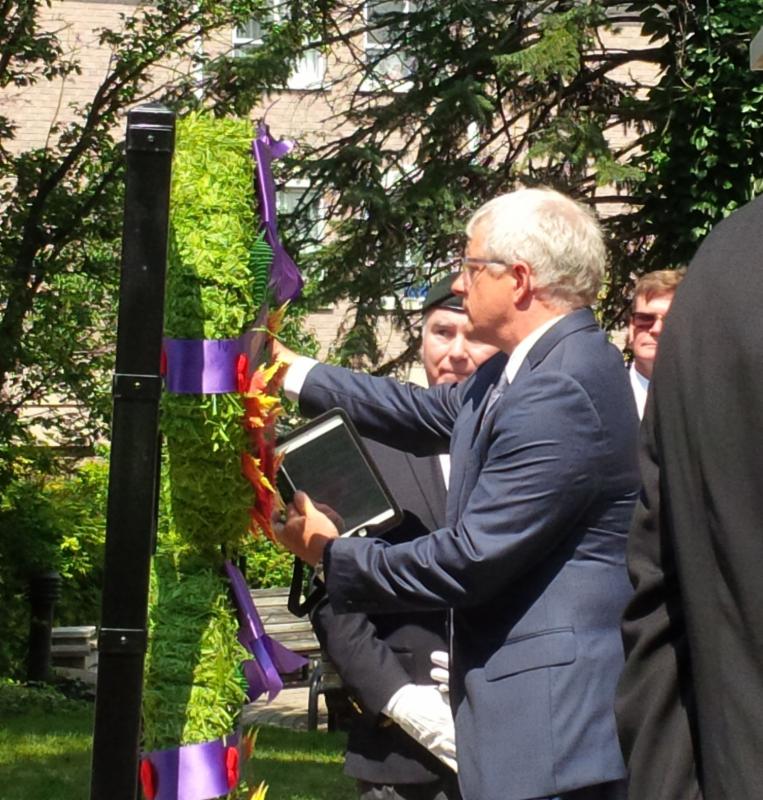 Text of Speech honouring Pte Hill
Today, on this monumental 75th anniversary of the Dieppe raid we will lay a wreath to honour Pte. Charles Hill who was a member of our community. He lived in Richvale, which in the 1940s was but a suburb of our Town.
We are honoured to have with us today Barbara Stanworth, her son Brian Stanworth and Judy Cowan as well as Judy and Barbara's husbands. If I have this correct Barbara and Judy are Pte. Hill's nieces and Brian's great nephew. I am sure that you are all especially proud of Charles – as we are. I will also add that Brian continued his Great Uncle's tradition and was a member of the militia in his younger years. His regiment was the Royal Regiment of Canada – the same regiment as his Great Uncle Charles.
Just before his 20th birthday Pte. Hill enlisted and ultimately became part of "A Company". It was on August 19, 1942 that Pte. Hill along with 6000 of his comrades courageously landed on a beach at Dieppe. It was at that time and place he made the ultimate sacrifice for his country and for his community of Richmond Hill.
Freedom is the foundation on which we have built this great country of Canada – but this freedom that each and everyone one of us holds so dear was never "free". It was courageous and honourable people like Pte. Hill that protected this freedom in 1942, and it is many men and women that have continued to protect it since that time. These heroes have allowed us to continue to build a country that is the envy of the world.
In preparing these words I viewed a photo of Pte. Hill and was immediately taken by the fact that he was a very young man – a young man just like many of our own sons and daughters, our grandsons and grand daughters.
Charles was born in Toronto in September 1919, grew up in Richvale, and was a popular member of the Richmond Hill Trumpet band. He was known by some as Charlie or Chuck and was only 16 when he enlisted in the Royal Regiment. When war was declared he immediately enlisted for active duty. He was transferred to Iceland with the Z Force, and in November 1940 was transferred to England.
In the early spring of 1942, Pte. Hill wrote a letter published in the Liberal newspaper, to the Richvale social club thanking them for the "Christmas cards and smokes". He mentioned the great Christmas dinner he had, a trip to the Watford area, and the fact that the weather in England at the time was like a Canadian winter. In August of that year he landed on the beach in Puys near Dieppe as a member of A company and was killed in action during the raid.
Of course most of us have never met Pte. Hill. It is only his family that really new this brave young man. However, the importance of what soldiers – who were also residents of our community, fathers, sons, brothers and sisters – did for all of us must be remembered – and cannot be understated. The sacrifice that Pte. Hill made, 75 years ago is especially acknowledged today. We lay this wreath in his honour on behalf of all residents of Richmond Hill – residents of today – but also residents of the future.
He and his colleagues must never be forgotten and his sacrifice must never be taken for granted – lest we forget…