1. Association of Municipalities of Ontario Conference
I was excited and proud to join over 2400 delegates from across Ontario at the Association of Municipalities of Ontario. At that conference we discussed municipal issues and the future of municipalities in Ontario.We kicked off the convention by singing O Canada and joined Ottawa Mayor Watson reciting a Land Acknowledgement honouring the Algonquins of Pikwakanagan. It was also great to listen to Chief Kirby Whiteduck of the Algonquin of Pikwakanagan, and Assembly of First Nations Grand Chief Perry Bellgard, outlining their thoughts on successes and challenges that First Nations people have in our Country.
Kristin Murray and myself at AMO
All of the municipal delegates have so much in common across this province and it was inspiring to share our challenges, great ideas, and learning to make our home towns the best they can be!
During the event we discussed Climate Change, Indigenous issues and reconciliation, recycling and municipal waste reduction, including reducing plastics, Opioids in our communities, sustainable and sta ble provincial funding for local governments. We also discussed issues around ensuring appropriate jurisdiction for municipalities to match resident expectations, Innovation and Economic Development, protecting against cyber attacks, providing affordable housing, Greenbelt preservation, and building liveable communities, to name a few topics of discussion.
I was honoured to speak to many more experienced colleagues about these important issues, like Mayor Hazel McCallion, and a number of less experienced colleagues like Kristin Murray, the first elected female Indigenous Councillor from Timmins. All colleagues shared valuable perspectives on successes and challenges in their communities. Great work is happening in communities across the province and municipalities like ours are on the front line of this great work!
2. Running to Save Monarchs and Pollinators
Cutting the Ribbon to some beautiful Pollinator themed are in Toronto
On September 20th in Toronto, marathon runners participating in a 4000 km relay race called the Monarch Ultra, arrived from the race starting point in Peterborough. This relay race will end in Mexico in about 2 months, and will trace the migration route that Monarch Butterflies use to get to their overwintering grounds near El Rosario, Mexico.
Along with Toronto Councillor
Mike Layton
, I had the honour to speak to the gathering about the work Richmond Hill is doing to help protect the Monarch Butterfly and pollinators. Event Organizer, and "Monarch Crusader",
Carol Pasternak
, along with Jode Roberts from the David Suzuki Foundation organized this event.
Several times during each of talks we were interrupted when live Monarch butterflies flew overhead, seemingly on cue, to receive cheers and applause from the kids (and adults) in ttendance.
While tackling most environmental problems it is crucial to remember all efforts count, and work being done by individual municipalities like ours across North America are collectively making a difference in the rebound of Monarch Butterfly numbers. I am proud of the role we are playing for pollinators and Monarchs in Richmond Hill! To learn more about the Monarch Ultra Relay please click
here
.
3. Tzu Chi Foundation Canada – Vegetarian Lunch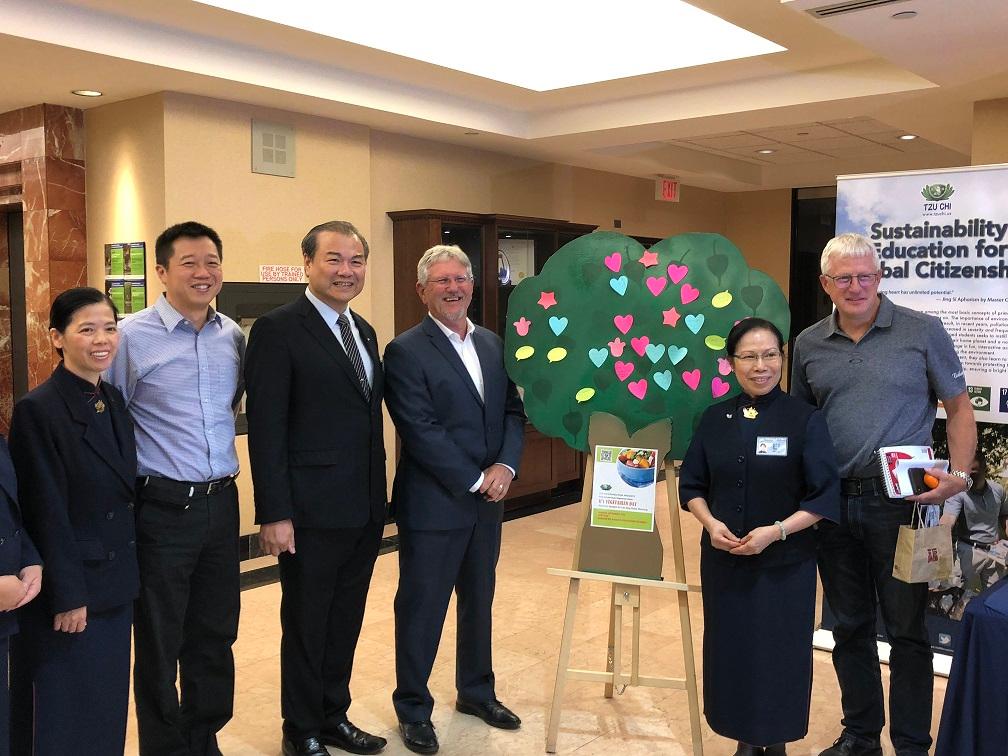 Tzu Chi Foundation was at The Richmond Hill offices recently to promote the healthy human and environmental benefits of increasing our consumption of plant based food relative to meat based food. It was a pleasure to speak to members of this group and enjoy the delicious vegetarian dishes.
Tzu Chi Foundation Canada has had its own North Toronto Mission based here in Richmond Hill for over 20 years. They have brought the essence of Buddhism into practice by delivering charitable, humanitarian and environmental protection projects here in Canada and throughout the world.
4. Terry Fox Runs in Richmond Hill
A number of members of Council joined Mayor Barrow to support the Terry Fox Run at the Mill Pond this past weekend. Each year we have two runs in Richmond Hill – the other was held at the Oak Ridges Community Centre. Terry's historic Marathon of Hope ran through Richmond Hill many years ago and our community continues to honour his legacy.
I will forever remember as a young child, seeing him running on a remote part of the Trans Canada Highway in Northern Ontario and thinking this was something special! At the time I could not have known the huge impact that this courageous Canadian would have worldwide in promoting Cancer research. Thank you to the participants in both runs, and the Rotary Club and
Glemena Bettencourt
for hosting these events each year.
5. Richmond Hill Focussed Events on Reconciliation with First Nations in Canada
I had the pleasure of attending two events in one week focussed on our Country's efforts around Reconciliation with First Nations, Inuit and Metis people. The first event featured a talk by Bernie Farber and a number of his guests, entitled A Canadian Genocide: Canada's Historical Treatment of its Indigenous People. The second event was hosted by the Richmond Hill Historical Society featuring Suzanne Smoke from Alderville First Nation, speaking about the historical treatment of First Nations in Canada.
Both events were very well attended and were poignant and moving presentations about the history of Canada's treatment of First Nations People, the harm that this treatment has caused, and most importantly, what we can do as individuals and as a country to move along a path to reconciliation.
I was proud to attend and was very pleased to hear so many people in attendance asking excellent questions of the presenters.
6. Moon Festival Festivities
Traditionally the Moon Festival, or Mid Autumn Festival marks the end of the summer harvest and has been celebrated for many centuries in China, other parts of Asia, and the world. It is one of many celebrations that citizens of Richmond Hill, no matter what their cultural background, have an opportunity to celebrate.
It continues to be a pleasure for me to attend these celebrations each year. I would like to thank MPP Daisy Wai for inviting me to her festivities and also to the newly formed Mill Pond Community Organization for their invitation. Happy Moon Festival to all that celebrate! May the round moon bring you a happy family and a successful future.
7. 2019 Ontario Provincial Novice Lawn Bowling Championships in Richmond Hill
I was proud to bring greetings from Council to open the Provincial Novice Lawn Bowling Championship hosted by the Richmond Hill Lawn Bowling Club. I had a chance to speak to competitors from across the province and also to speak to long term Richmond Hill Lawn Bowling club member, past provincial Champion, and Richmond Hill Sports Hall of Fame, Jean McCron.