1. Mackenzie Vaughan Hospital Construction Site Visit
I have been a member of the Mackenzie Health Hospital President's Advisory Council for
the past number of years. Recently we had our meeting in a construction trailer on the Mackenzie Health Vaughan Hospital construction site. It is great to see up close, the new hospital building growing out of the ground at Jane Street and Major Mackenzie Drive. This much needed new hospital will be completed in 2020. Mackenzie Vaughan Hospital, when complete, will help to relieve pressure from Mackenzie Health Richmond Hill Hospital and will be an important addition to health care in our community.
2. High Notes Avante Gala for Mental Health
Congratulations to High Notes Avante Productions Inc. and Ingrid Taheri for another successful gala at the Richmond Hill Centre for the Performing Arts. It was a great evening of entertainment, insightful conversations and information about Mental Health issues. The over arching message of the evening was – "there is help, there is hope, and we need to break down the stigma around mental health for this hope and help to be more easily accessed".
I was proud and honoured that Richmond Hill hosted this event! The evening's talented talented performers included Emcee Luba Goy and Lloyd Robertson who spoke about his family's struggles with mental health issues, as well as Suzanne Smoke who provided a poignant perspective about mental health issues from an indigenous community perspective.
3. Renovations Complete at Sandgate Women's Shelter
Sandgate Women's Shelter is a shelter for women and children who are escaping domestic violence. The shelter serves our community and others in the GTA. This important organization just completed some renovations and an increase in its capacity to serve those in need of its services. The staff at Sandgate invited local politicians and the media to tour the newly renovated facility. To learn more about Sandgate visit
www.sandgate.ca
, or a good summary of the event is in the Liberal newspaper
here
.
4. We Can Change the World Day Jam in Richmond Hill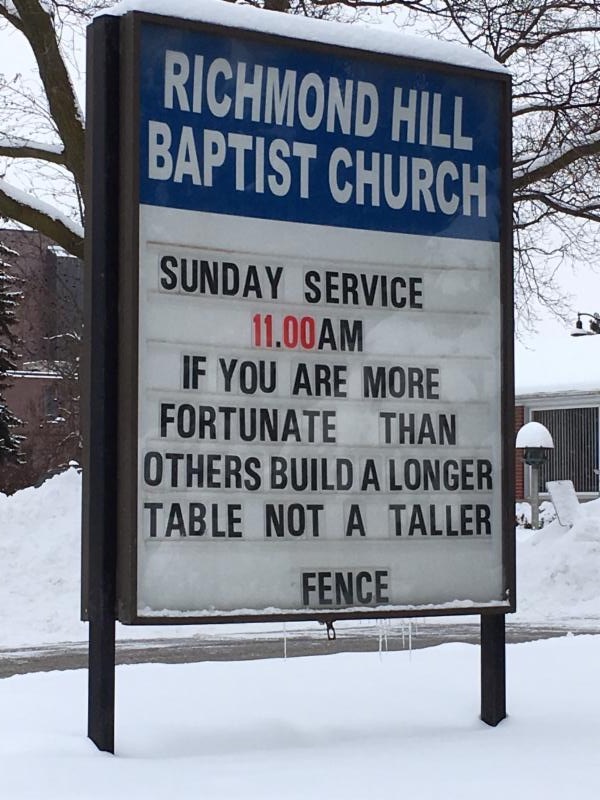 I love this sign – it is located in front of the
Richmond Hill Baptist Church
on Wright St. and it speaks to a truly Canadian value – generosity. We are lucky to live in Richmond Hill and Canada.
On the subject of generosity, I mentioned this sign in my address to the audience during the We Can Change the World Day Jam in Richmond Hill.
Richmond Hill's We Day volunteers are a group of generous young people who are working to make the world a better place by volunteering their time and raising money for, among other things, school enhancement projects in rural India and Kenya. Thanks to Richmond Hill resident
Heather Skoll
for her tireless efforts in leading the charge!
5. Hill After Dark – an event by the Richmond Hill Youth Action Committee
Once again this year the Youth Action Committee (YAC) hosted a talent packed event named Hill After Dark at the Richmond Hill Centre for the Performing Arts. Youth from across our community offered their talents in visual arts, music and poetry. I have enjoyed this performance for a number of years. It is really quite remarkable the range of talent that our young people possess. I have also been honoured to serve YAC as one of the Council Liaisons appointed to this committee. To learn more about YAC click
here
.
6. Richmond Hill Wraps Up Canada 150 Celebrations
Richmond Hill proudly celebrated Canada's 150th anniversary of confederation with themed events throughout the year. Staff presented a video to Council that highlights the Canada 150 celebrations, including a Street Banner Contest; Earth Day maple tree planting; Healthy Yards maple tree giveaway; a Canadian Pavilion, Indigenous performances and lumberjack show at the Canada Day celebration; the unveiling of a revitalized Morgan Boyle Park including specially-designed Canada 150 features; axe-throwing at Ribfest; a Canada 150 themed drone light show at the Tastes of the Hill Multicultural Festival; and the Community Murals Project.
Richmond Hill also had the largest-attended stop of the Sesqui Cinematic Dome Tour in Ontario, with over 8500 visits in one weekend. The commemorative video is available on
RichmondHill.ca/Canada150
, Richmond Hill's YouTube channel and Richmond Hill's Facebook page. For a good summary of Richmond Hill's Canada 150 festivities click
here
.
7. Richmond Hill Recruiting an Integrity Commissioner
Council directed staff to conduct a recruitment process for a permanent and experienced Integrity Commissioner using a public Request for Proposal (RFP) process. Richmond Hill has been using Amberley Gavel Ltd. as interim Integrity Commissioner since October 2013. The permanent Integrity Commissioner is expected to be able to assist Council with updating the Council Code of Conduct, as well as give advice to Council about ethical acts and duties under the Code. Richmond Hill's Integrity Commissioner also presents an Annual Report to Council.