1. 2016 – 2017 Capital Projects in Ward 4
At a recent Capital Budget Committee of the Whole meeting,  council discussed and will hopefully approve, later this month, a number of projects that will be built in 2016, or designed (and likely built in 2017). The following is a list of some of the more significant projects in Ward 4:
– Bradstock Park Revitalization (design in 2016 construction likely in 2017)
– Hidden Springs Parkette (build in 2016)
– Elgin West Storm Pond and Elgin Mills Greenway (design in 2016 possible construction in 2017)
– Trans Richmond Hill Trail – Gamble Glen Connection (build in 2016)
2. Engagement in Richmond Hill's Budget Process – Citizen Budget
As we move through the present Capital Budget process, and then on to the Operating Budget in the early winter, Council and staff are always looking for ways to hear from residents concerning the priorities for the spending of tax dollars. The level, variety, and quality of services that a municipality delivers are very important because this shapes the kind of community in which we live. It is important that these services and the way they are delivered meet the needs of Richmond Hill's citizens. We have introduced an online tool called Citizen Budget to help residents learn about where their tax dollars are spent and how the spending of these funds impact the overall tax paid by residents of our town. We will be launching this tool toward the end of December and dates for Budget Public meetings will be announced soon. Stay tuned for details and please feel free to contact me if you have any comments or suggestions as we move through our budget deliberations.
3. Mill Pond Master Plan 
Staff will be embarking on developing a Master Plan for Mill Pond Park. The overall purpose of the Mill Pond Master Plan will be to determine a strategic direction, and overarching vision for the Mill Pond Park, and set out an implementation plan that prioritizes recommended short and long-term capital and operating works within the park. There will also be a need in the coming years to dredge the pond due to the fact that it is becoming increasingly filled with sediment. A Master Plan for a destination park such as the Mill Pond will be important when coordinating any improvements over the years to come.
4. 2015 William F. Bell Young Entrepreneur Award
Jonathan Sun, Richmond Hill High School student and owner of Merchant Branding, was awarded with the 2015 William F. Bell Young Entrepreneur Award. Through the Ontario Summer Company Program, Jonathan received start-up funding, business training and mentorship to start a promotional branding business. This assistance helped Jonathan transform his t-shirt printing business ideas into reality! He achieved good sales numbers this summer and plans to continue his business as he completes Grade 12. This award was established in honour of Richmond Hill's longest serving Mayor and long-time supporter of youth and business, William F. Bell. In partnership with the Ministry of Economic Development, Employment and Infrastructure, Richmond Hill's Small Business Enterprise Centre (SBEC) delivers the Summer Company Program. Since 2004, Richmond Hill's SBEC has helped more than 90 young, creative people explore entrepreneurship as a career option and launch summer businesses through Summer Company.
Mr. Sun Accepting his award
5. Tastes of the Hill Provides Cultural Experiences and Funds to the Community 
Deputy Mayor, Regional & Local Councillor Vito Spatafora announced that $30,000 was raised at this year's Tastes of the Hill (TOTH) Multicultural Festival in support of Autism Ontario, York Region. The organization was selected to receive the funds raised due to their work in supporting individuals living with autism, their families and other professionals with whom they interact.This year's TOTH multicultural festival did not disappoint! Visitors experienced international cultures through a variety of activities, including live entertainment, a fashion show, contests and a showcase of culture, food and beverages, fashion, film, arts and crafts, sports and animals. To date, Tastes of the Hill has raised more than $440,000 for local charities.
Deputy Mayor Spatafora along with Town staff and members of Autism Ontario York Region accepting the really big cheque (good luck getting that into a bank machine)
6. Council Public Meeting Arnold Cres. Development Application
7. Holocaust Remembrance Event 
On Sunday November 8th, the Town of Richmond Hill sponsored an event presented by Beit Rayim Synagogue to commemorate the Holocaust. Allan Chernoff, a CNN reporter, made a presentation based on a book he and his mother recently published called Tailors of Tomaszow – A memoir of Polish Jews. It was a fascinating presentation recalling the horrors of the holocaust endured by Polish Jews, and the monumental task of rebuilding lives in the aftermath. This event was particularly poignant as it fell a few hours after our Town Remembrance Day Ceremonies.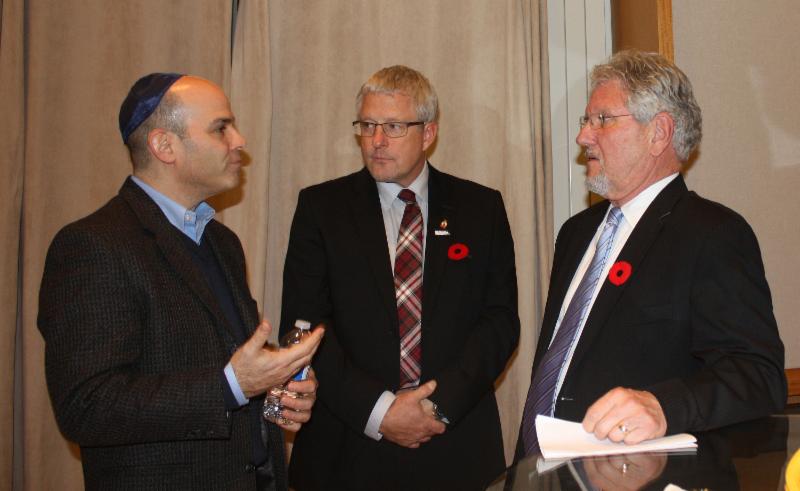 The Davids – Left to Right – David Bloom (President of Beit Rayim Syagogue), Councillor David West and Mayor David Barrow.
8. Mayor's Annual Prayer Breakfast
Council and many members of the faith community were recently invited to the Annual Mayor's Prayer Breakfast. This event brings together clergy and parishioners from many different church denominations to share fellowship and prayer.