1. Remembrance Day in Richmond Hill
Richmond Hill and the Royal Canadian Legion Branch 375 hosted a poignant and well attended Remembrance Day at the Cenotaph on Sunday, November 11th. A statue honouring our veterans was also unveiled. I also accepted an invitation to attend a ceremony held by the students and staff at O.M. McKillop Public School on Monday, November 12. The students decorated the front of the school with poppies and then gathered to honour our veterans by singing O Canada outside around their poppy creation. Each class also created signs of peace and attached them to the trees in front of the school. I could not help but think our veterans would be proud of them! Lest we Forget…
2. Discussing Municipal Issues at Holy Trinity School
I recently had the pleasure of visiting Grade 5 at Holy Trinity School to discuss municipal issues with the students. Road construction, waste disposal, snow removal, road safety, poverty, and cannabis were among the topics discussed. Grade 5 Social Studies has a component that works to build knowledgable engaged citizens and I think these students are off to a great start – I made them all promise they would exercise their right to vote when they were 18!
3. Local and Regional Councillors Spatafora and Hogg retire
Regional Chair Wayne Emmerson and Mayor Barrow making a presentation to Regional & Local Councillors Hogg and Spatafora at their retirement event
Photo courtesy of Councillor Karen Cilevitz
A heartfelt congratulations to Local and Regional Councillors
Vito Spatafora
and
Brenda Hogg
on their retirement from Richmond Hill Council. I have, for many years, admired their commitment to serving the citizens of Richmond Hill and York Region. I have also come to appreciate their wisdom, experience, and dedication to our community. I will miss them both but sincerely wish them all the best in their retirement!
Please click
here
to read the story which appeared in the November 12 edition of the Liberal.
4. Walk a Mile in Her Shoes in Support of Yellow Brick House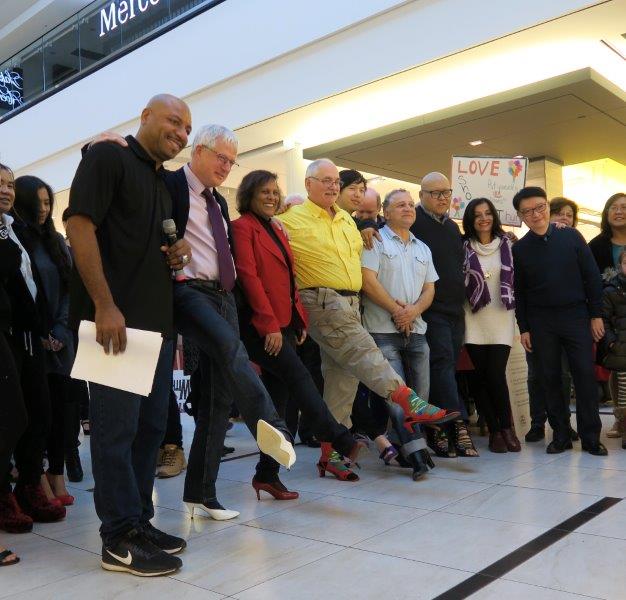 On Sunday, November 25 we "Walked a Mile in Her Shoes" to raise funds and awareness to end domestic violence against women in our communities. It is unacceptable that 1 in 4 of our mothers, sisters, nieces, and aunts will experience domestic violence in their lifetime. We need to build communities where everyone feels safe in their homes. As men, we can, and must, be a part of the solution! Thanks to Yellow Brick House for the great work, for the past 40 years, they have been doing supporting victims of domestic violence in York Region and raising awareness of this problem.
5. Council Inaugural Meeting
2018-22 Richmond Hill Council
Photo by Joanne Witt from Snapd Richmond Hill
| | |
| --- | --- |
| | |
| Councillor David West Photo by Joanne Witt Snapd Richmond Hill | |
Richmond Hill Council hosted its Inaugural meeting at the Richmond Hill Centre for the Performing Arts on December 3rd, 2018. Two new Regional and Local Councillors as well as a returning Mayor and 6 Local Ward Councillors took their Oath of Office and had an opportunity to address the public in attendance. For those that were not able to attend you can watch the proceedings by clicking here. (My address can be viewed on the video at time 56:40)
It is an honour to be re-elected as the Ward 4 Councillor. I look forward to contributing positive leadership for our community during the next term of Council.
6. Menorah Lighting
Rabbi Bernstein from Chabad Romano Synagogue, along with Mayor Barrow and Councillor Chan, had the pleasure of lighting the Menorah located in front of the Richmond Hill Hill Centre for the Performing Arts to mark the beginning of Chanukah. To all those that celebrate, Hanukkah Sameach!
7. Christmas Tree Lighting
Each year Council celebrates the coming of the Christmas Season with the lighting of the
Christmas Tree in the Plaza at the Richmond Hill Centre for the Performing Arts. This year Santa was on hand to help out. I had a conversation with him and I am happy to report that I am not getting coal this year – it's good to have friends in high places. To all that celebrate, Merry Christmas!
8. Salvation Army Kettle Campaign
Councillors Beros, Chan and myself along with Mayor Barrow recently raised the Salvation Army flag at Town Hall to kick off their Kettle Campaign. This Saturday December 8th, from 12-5PM, I will be attending a Salvation Army Kettle located outside Sobey's Supermarket in the Plaza at Yonge and Tower Hill. I hope you will drop by to say hello. The Salvation Army assisted over 400 families and 1000 children in our community with Christmas toys, food and gift cards. This year they anticipate the need to be even greater.