1. 2018 Richmond Hill Sport Champions
I was pleased to attend the Richmond Hill Sports Champion Awards at the beautiful Oakview Terrace. Congratulations to all the nominees and recipients. The annual event was organized by the Richmond Hill Sports Hall of Fame.
Athletes:
Jack Dushenski, Figure Skating
Iliya Kovler, Figure Skating
Amelia Orzel, Figure Skating
Maya Gorodnitsky, Figure Skating
Kadan Johnson, Kayaking
Brooklyn Wodehouse, Kayaking
Lauren Cinq-Mars, Kayaking
Emma Zoldy, Kayaking
Grace Tsaousidis, Kayaking
Maria Ivanov, Kayaking
Angelina Davidson, Kayaking
Katy Stewart, Kayaking
Sarah Nagy, Kayaking
Camilla Flach, Baton
Sapphire Flach, Baton
Jenna Caswell, Baton
Kerri Cooper, Baton
Mikayla DePiero, Baton
Brittaney Francis, Baton
Becca Liski, Baton
Beth Porter, Baton
Stefany Puebla Dominquez, Baton
Alessia Spano, Baton
Megan Ward, Baton
Sydney Ward, Baton
Coaches
Inga Zusev, Figure Skating
Steve Merker, Masters Swimming
Diana Porter, Baton
Satyne Ward, Baton
2. Sovereign Medal Award – presented at the April 30 Council Meeting
Mayor Barrow presents to Julie Mahfouz
Mayor Barrow presents to Eric W.K. Tam
Winners Nilouffer Rummana Virji, Eric W.K. Tam, Angie Ng and Julie Mahfouz Rezvani were awarded the Sovereign's Medal for Volunteers by Mayor Dave Barrow. The Sovereign's Medal for Volunteers recognizes the exceptional volunteer achievements from across the country in a wide range of fields. As an official Canadian honour, the Medal for Volunteers incorporates and replaces the Governor General's Caring Canadian Award in 2016. The Medal builds on the legacy and spirit of the Caring Canadian Award by honouring the dedication and commitment of volunteers.
Nilouffer Rummana Virji is the co-coordinator of the Crescent Valley food bank. Nilouffer leads volunteers, reaches out to clients and delivers food to those in need. Her work has brought the community closer together by rallying her neighbours to help others while effectively providing food security to those in the greatest need.
Eric Tam volunteers with 11th Toronto Scout Group, which he helped found in 1990. In addition to his work as assistant rover advisor and as deputy council commissioner of Recognition, he has been instrumental in the development of Chinese-language leader development courses.
Angie Ng has been mentoring and instructing youth through the 3rd Unionville Scout Group for the past 10 years. She encourages them to attain their goals and become better citizens in the community.
Julie Mahfouz Rezvani is the catalyst behind The Clothing Drive, a grassroots initiative that distributes clothing to Syrian refugees who have resettled in the Greater Toronto Area. An expert at logistics, she has been instrumental in the success of the storefront location, which has welcomed thousands of refugees since its opening
3. 2018 Ontario Medal for Young Volunteers Award
Hayden Cheung was congratulated by Mayor Dave Barrow and members of Council for receiving the 2018 Ontario Medal for Young Volunteers Award. This award is the highest recognition a young person can achieve for outstanding volunteer contributions to the province. The Ontario Medal for Young Volunteers is awarded to youth aged 15 to 24 who have volunteered for a large amount of time with a charity, not-for-profit organization or person, and who have inspired other young people to volunteer.
Hayden is the founder of Youth Nation Alliance, an organization that connects youth across the Greater Toronto Area with organizations that need volunteers. He has spent more than 1,800 hours volunteering and has also pioneered a program connecting young newcomers with older students who help them adjust to life in Canada. Hayden was one of 10 remarkable young recipients of this award.
4. Richmond Hill's Youth Action Committee Plans for Youth Week
Richmond Hill's Youth Action Committee (YAC) is comprised of residents in grades six to 12 who provide staff and Council with advice and input on programs and services for youth in the community. Sophia Hou, YAC Co-Chair and Core Member, and Cassidy Mark, YAC Core Member, delivered a presentation to Council outlining their recent YAC events and their upcoming activities for Youth Week. They highlighted Hill After Dark, YAC's annual youth arts showcase and activities such as recreation and art, dance, civic engagement and volunteerism.
For Youth Week, May 1 to May 7, 2018, YAC planned a variety of events to meet the varied interests of youth. Activities include a DJ workshop, baking activities, a computer workshop, drop-in basketball and badminton, park clean up at the Eyer Wideman house, YAC information sessions and the annual Race Around the Hill (RATH) event. This year, YAC is partnered with Children's Treatment Network to include a wheelchair basketball drop-in.
5. Clean Up, Green Up Weeks April 15 – April 29
During the last two weeks of April, many citizens participated in Richmond Hill's Clean Up Green Up program. The event is all about pride in our community and helping to keep our community clean. I want to extend a particular thank you to two groups who invited me to be a part of their clean up events. Thanks for making a difference!
6. 360kids Fundraising Walk
360kids recently hosted a fundraising walk at Mill Pond Park. It was a well attended event and the organizers exceeded their fundraising goal. It was great to see so many young people out to support other youth (pictured with some of my "young" friends). Youth homelessness in York Region is an invisible problem but 360kids continues to be a leader in supporting youth in our community. Thanks to the 360kids Board of Directors and staff for all that they do!
7. Culturalicious at St. Theresa of Lisieux Catholic High School
Diversity is our strength and this diversity should be celebrated – This was the clear theme and message at Culturalicious – a celebration of culture at St. Theresa of Lisieux Catholic High School. Performances and food from around the world were enjoyed by all in attendance. It was a really wonderful evening of cultural sharing and an event that was very reflective of who we are as a community. Thanks to the students and staff for sharing this event with Richmond Hill.
8. Strides For Stroke
Thanks very much to all the members of my team, the Richmond Hill Runners and Walkers, including Council members Mayor Dave Barrow, Deputy Mayor
Vito Spatafora
, Ward 5 Councillor
Karen Cilevitz
, and Ward 3 Councillor
Castro Liu
.
It was a fun day, but most importantly the event surpassed its goal and raised over $275,000 for our hospital.
9. Windstorm clean up in Richmond Hill
A major windstorm swept through York Region on Friday, May 4. Teresa Latchford wrote an article which appeared in the May 10th issue of the Richmond Hill Liberal. To read the article please click
here
.
10. Richmond Hill Camera Club Annual Awards Banquet
I was honoured to speak to the Richmond Hill Camera Club at their Annual Awards banquet held at the Thornhill Country Club. Awesome photography was on display from members of the Camera Club. The art of photography is alive and well in r community!
11. Richmond Hill High School Arts Contest Celebration
In May the Richmond Hill Library held its Annual High School Arts Contest Celebration at the Richmond Hill Central Library. Again this year, I had the pleasure of judging the photography entries. As usual there were great works submitted by many young people in our community.
The contest showcased some of Richmond Hill's talented young artists with sixteen winners, across four categories, representing six different local high schools. Winners were honoured from the following categories:
– Photography
– Poetry
– Short Stories
– Visual Arts
12. St. Marguerite d'Youville – Alice in Wonderland Jr.
Congratulations to the students and staff of St. Marguerite d'Youville Catholic Elementary School on their production of Alice in Wonderland Jr. It was a thoroughly enjoyable and witty performance.
I appreciated being invited to enjoy the production with all the proud parents in attendance!
13. Saturday May 12 – a very busy day!
It was a very busy Saturday May 12th in our community. The day began with a Pancake breakfast at the Richmond Hill Presbyterian Church, and then a stop at the Ganesha Hindu Temple and St. Mary and St. Joseph Coptic Orthodox Church. These locations were all part of the the Doors Open Heritage Tour. The day was topped off with a charity BBQ at Treasures Charity Thrift Store in support of the great work they do around mental health in our community. Thanks to all for your welcoming hospitality!
14. Mayor's Monarch Pledge – Vaughan Joins Richmond Hill
There were only 5 Canadian Municipalities (and many US and Mexican municipalities) signed on to the Mayor's Monarch Pledge last year. When I met with the 5 Canadian colleagues who, like Richmond Hill, had signed the pledge, we all agreed we needed to change that! As a result we all committed to lobby our neighbouring municipalities to join us in improving habitat for Monarch Butterflies and other pollinating insects.
I learned last week that on a motion put forward by Vaughan Regional Councillor Singh, Vaughan has joined Richmond Hill in adopting the National Wildlife Federation's Mayor's Monarch Pledge (to view the motion click
here
). I encouraged Vaughan Councillor Singh to encourage her council colleagues to sign the pledge when she was appointed to Vaughan Council last year. I am really pleased that she was successful.
Vaughan and Markham, as well as York Region, are all now following Richmond Hill's lead and taking steps to improve habitat for Monarch Butterflies and pollinators. King and Aurora are next on my list! For more information on the pledge click
here
.
15. Richmond Hill Wins Awards for Community Festivals and Events
Three of Richmond Hill's most popular festivals and events, Canada Day Celebrations, Ribfest and the Tastes of the Hill Multicultural Festival were awarded Top 100 Festivals and Events by Festivals and Events Ontario (FEO). The 2017 Canada Day Celebrations, Richmond Hill's largest, single-day festival, attracted more than 20,000 visitors from around York Region and the Greater Toronto Area. The sixth annual Ribfest attracted more than 35,000 visitors to the three-day event held at Richmond Green Park. The Tastes of the Hill Multicultural Festival raised $35,000 in support of Big Brothers, Big Sisters of York. FEO is the leading professional organization for the festival and events industry, helping members to produce unique, quality festivals and events in all corners of the province through education, professional development and networking. Its membership includes festivals, events, suppliers, municipalities, schools, students, BIAs and more. Richmond Hill has previously been recognized by FEO for these festivals and events that took place in 2014 and 2015.
16. Residents Encouraged to Be Emergency Ready – Stay Connected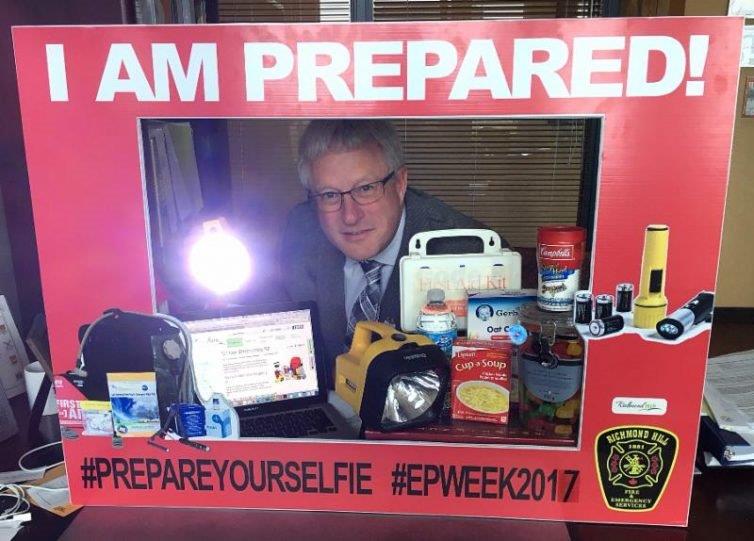 Council received a presentation from Richmond Hill Fire and Emergency Services (RHFES) staff regarding Emergency Preparedness Week which ran from May 6 to 12, noting the importance of being prepared.
Citizens are encouraged to make an emergency plan, build a 72-hour emergency kit and stay informed. RHFES staff were out in the community during the week talking to residents about how to get prepared. Emergency preparedness resources can be found
online
.
The 26th Annual Police Appreciation Night was recently held at the Paramount Eventspace in Vaughan. The mission of the Police Appreciation Night organizing committee is to support the mandate of York Regional Police by organizing and conducting an event that will encourage public support and raise money to fund police programs and equipment.
This event also highlights the good work being done each and every day by members of York Regional Police. Awards include Excellence in Policing, Garrett Styles Bravery in the Line of Duty and Rob Plunkett Outstanding Service to the Community. Also presented annually are the Herbert H. Carnegie and the Leo McArthur Civilian Recognition awards.
18. Mayor's Prayer Breakfast
The Mayor's Prayer Breakfast – A Christian Celebration of Prayer for the Richmond Hill community was held at the Sheraton Parkway Toronto North Hotel on May 23rd with Keynote Speaker Rev. Dr. Charles Price and a wonderful musical performance by Chorus York.
Over 400 people were in attendance including our MP's, MPP's, York Regional Chair, Mayor and Members of Council, Senior Town Staff, Mackenzie Health CEO, York Regional Police, York Region EMS, Richmond Hill Fire Chief and representatives from both school boards, to name a few.
19. Richmond Hill Tree Planting
On Thursday May 17th, (after being snowed out on the originally planned date in April) the Oak Ridges Community Centre hosted Richmond Hill's 2018 Earth Day Tree Planting event. The event was themed to commemorate the 20th anniversary of Richmond Hill's Community Stewardship Program. Schools, businesses, local organizations and residents participated and 700 trees were planted.
20. 5th Annual Canada China Investment Summit
I was proud to attend the 5th Annual Canada – China investment Summit supporting economic development in our community.
Thanks to the Canada-China Enterprise Capital Union for the invitation to represent Richmond Hill. International trade is an important part of our local and national economies. Events like this help to foster stronger ties with other countries with benefits for our entire community as a result.
21. Dodgeball for 360kids
Organized by Richmond Hill resident, Sonny Dhillon, another wonderful community event was held on the evening of Friday May 25th at Richvale Community Centre. Many kids and local supporters attended and played in a dodgeball tournament but most importantly, helped to collect 2500 pounds of food and raise awareness for 360kids.