1. Richmond Hill Speaker's Series
On April 11, I had the pleasure of attending the first Richmond Hill Speaker's Series with a talk by Adam Chapnick on Canada United States relations. This series is a collaboration by Marj Andre, Mary Kot, and the Richmond Hill Centre for the Performing Arts. The series brings a variety of speakers and subjects of interest to our community. Tickets for the rest of the series will be available after May 7th – I will be there!
2. Third Anniversary of Aneal's Taste of the Islands
It was a real pleasure to visit
Aneal Swaratsingh's restaurant,
Aneal's Taste of the Islands to help him celebrate 3 years in Downtown Richmond Hill (corner of Richmond Street and Yonge Street).
Anneal's is one of many great restaurants in the Historic Village Core – so when you are hungry you know where to go for an excellent variety of great food! For more information about Village Core restaurants click
here
.
3. Annual Character Community Mayor's Breakfast hosted by Richmond Hill Board of Trade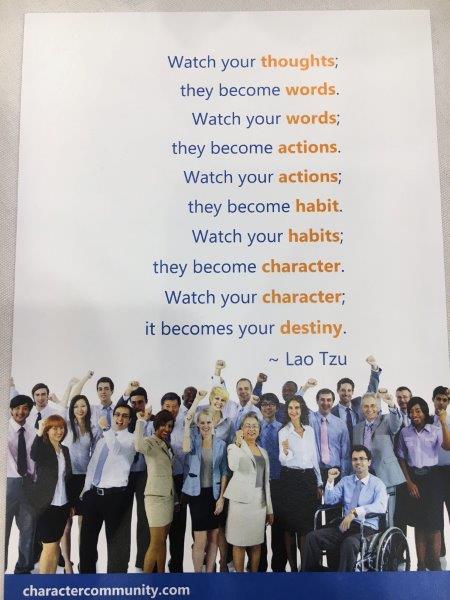 The Annual Character Community Mayor's Breakfast hosted by the Richmond Hill Board of Trade was held April 11. The Character Community effort chaired by Deputy Chief of York Regional Police, Andre Crawford, is doing great things in promoting important positive Character Attributes that make our community stronger. They provide programs for adults but also for kids across our Region. For more information visit
3. Employee Code of Conduct
Richmond Hill is committed to achieving the highest standards of conduct. To help do so, all employees must read and sign an Employee Code of Conduct, agreeing to its terms and conditions, before beginning work with the Town. Council recently approved adding specific provisions with respect to the reporting of wrongdoing (whistleblowing) and protections from reprisals for reporting such wrongdoings; and an update to the use of Alcohol, Drugs, and other Substances section to specifically address impairment issues which may arise as a result of the pending legalization of cannabis usage.
The purpose of the Employee Code of Conduct is to detail clear guidelines regarding acceptable behaviour by all levels of staff. It sets standards/guidelines for staff behaviour with respect to confidential information, media relations, conflict of interest considerations, and use of municipal property, insider information, the acceptance of gifts and benefits and political involvement. Richmond Hill's Employee Code of Conduct was last updated in 2006. Defining these specific guidelines demonstrates to all customers how seriously the Town takes its professional responsibility of providing quality services in an impartial and efficient manner.
4. Community Tree Planting Efforts Help to Establish a Healthy Urban Forest

Richmond Hill's efforts to protect the natural environment continue to make a difference. Council received a report and learned more about the ongoing programs and activities that contribute to creating a vibrant community by establishing a healthier urban forest and natural corridors throughout the Town's greenway system. Through the Community Stewardship Program, Richmond Hill works with agencies and community volunteers to improve the local environment through activities like tree planting, stream restoration and invasive species removal.
In 2017, with the help of 1,950 community volunteers and partner agencies, 10,900 trees/shrubs were planted in Richmond Hill parks and natural areas. The Healthy Yards Program provides residents the opportunity to purchase native trees, shrubs, perennial flowers and backyard composters for their own property at a subsidized cost. Rain barrels are also available at a wholesale price. In 2017, approximately 1,000 residents purchased 1,734 trees and shrubs, 5,782 perennial flowers, 195 backyard composters and 269 rain barrels.
5. Richmond Hill Resident receives the 2018 Ontario Medal for Young Volunteers Award
On April 19th Hayden Cheung was one of the recipients of this very prestigious award presented by the Lieutenant Governor of Ontario Elizabeth Dowdeswell. Hayden Cheung of Richmond Hill is the founder of Youth Nation Alliance (YNA), an organization that connects youth across the Greater Toronto Area with organizations that need volunteers.
He has spent more than 1,800 hours volunteering and has also pioneered a program connecting young newcomers with older students who help them adjust to life in Canada.
Hayden and his YNA group have volunteered many hours to events like the Richmond Hill Winter Carnival, the Ward 4 Richmond Hill Maple Syrup Festival, and many other Town lead events. It was a pleasure for the event staff at the Town to acknowledge this work by nominating him for this award.
Congratulations to Hayden on his achievements, and for the positive work he has done in our community!
6. Prayer Vigil Held for Victims and Loved Ones of the April 23 Tragedy
I find it
impossible to describe in words, the horrible tragedy that took place in Toronto on Monday, April 23rd. As a community we share our grief with Torontonians who have lost a loved one during this terrible occurrence. To share our grief and demonstrate our strength as a community, a number of the Downtown Churches in Richmond Hill hosted a vigil at St Mary's Anglican Church on April 24th. Those in attendance lit candles as a symbol of their prayers for healing in our community. A very moving article written by Kim Zarzour appeared in the Liberal newspaper. To read this article click
here
7. York Region Character Community Awards
Congratulations to Richmond Hill resident Art Austriaco who won the Senior Citizen of Character Award during the Character Community Foundation Annual Awards held on April 25 at the Richmond Hill Centre for the Performing Arts. Pictured shaking hands with Mr. Austriaco is Richmond Hill resident Brian Presement who was a nominee in the Adult Citizen of Character Category.
Congratulations to all the nominees and award winners from across York Region. The theme of the evening was Live with Character – Change the World!